Replacement motherboards for ZX Spectrum
All boards refurbished and tested by myself, as follows:
Replaced original electrolytic capacitors with new ones.
Modded to output composite video signal - for best picture and compatibility with newer TVs.
Cleaned edge / tape connectors etc.
Tested on RAM-test loop for 2 hours
Loaded games from tape
Connected and tested interface with expansion connector
Checked keyboard input
Products:
Click on the product thumbnail for an enlarged view.
Sinclair Spectrum 48K Motherboard
Refurbished as detailed above. If you have a preference for a particular revision of the Spectrum board please contact me before buying to see if I have one. Otherwise, I will send whichever I have available. (The current board in stock is an Issue 4S)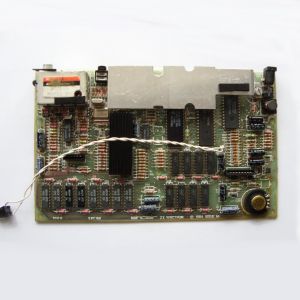 Sinclair Spectrum+ 48K Motherboard
Refurbished as follows:
Replaced old electrolytic capacitors
Modded to output composite video signal
Installed heatsink on ULA chip (Note: this makes the board too tall for a rubber key Spectrum case)
The reset switch for the Spectrum+ case is included (pre-soldered).
Current boards in stock are Issues 4B and 6A (please leave a note in the Special Instructions box if you have a preference)