Click on the product thumbnail for an enlarged view.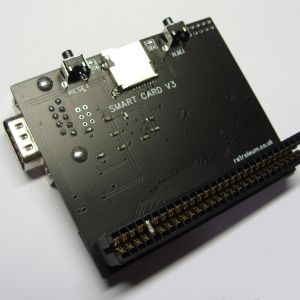 SMART Card V3 Spectrum Interface
The SMART Card is a game loader / kempston compatible joystick interface aimed at Spectrum users who want a simple, plug and play method of loading games quickly from micro SD Card. Upon power up, you are presented with a list of games on your SD Card from which you can select using the joystick or keys. The .sna and .tap files found on spectrumcomputing.co.uk, www.worldofspectrum.org and other websites are supported.
The SMART Card also has extra features such as its diagnostic ROM which can be used to identify bad RAM chips etc. There's also a reset switch and NMI button which allows pokes to be entered, snapshots to be saved, code in RAM to be disassembled etc.
The V3 SMART Card now supports 128K games as well as 48K (this necessitated a hardware update so the new ROMs are not compatible with previous versions of the SMART Card unfortunately). It is supplied ready to go, all you need extra is a micro SD card with some games on it - I have some suitable (blank) micro SD Cards listed above, if required. More info and a FAQ can be found here. Manuals etc can be found in the project archive.
Availability April 2022: Crucial SMART Card components are currently unavailable due to the worldwide component shortage and it is unlikely I'll be able to make any more SMART Cards for at least 6 months.