"ZipStik" Joysticks
The Zipstik joystick is regarded as one of the best retro joysticks from back in the day - and rightly so! Those shown below have been refurbished by myself and are fully working. All have a standard DSUB9 connector suitable for C64, Spectrum (via interface), Atari, Amiga, Amstrad CPC464 etc. Note: Cannot be used in the Spectrum +2/+3's onboard joystick ports.
Products:
Click on the product thumbnail for an enlarged view.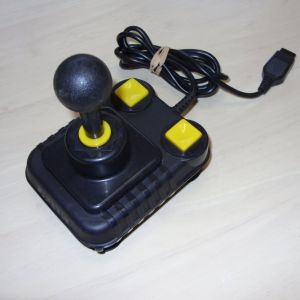 Refurbished Zipstik Autofire Joystick with *new microswitches* (suckers on base)
Fully microswitched version of the Zipstik with auto-fire switch.
Refurbished by myself as follows: Thoroughly cleaned internally and externally, four brand new high quality microswitches fitted (up,down,left,right) and fully tested.
All directions including the diagonals, both fire buttons and auto-fire are working perfectly.
Very good physical condition - only minor wear and tear. The four suckers on the base are present.
Autofire Config: When the autofire switch is on, pressing a fire button creates rapid fire.