Easter Holiday Alert! Please note I'll be unable to dispatch any orders or reply to messages between April 19th-22nd inclusive, but you can still place an order if you wish. Cheers, Phil.
Hand Tools
Products:
Click on the product thumbnail for an enlarged view.
IC Pin Straightener
Suitable for standard narrow (0.3") 14,16,18 & 20 pin chips and the wider (0.6") 24,28 & 40 pin chips.
Simply drop in the chip and squeeze device to set the pins to the correct width alignment.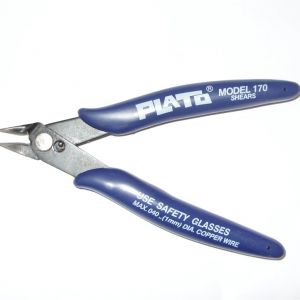 Fine Point Side Cutters
Light duty snips, ideal for clipping the pins off dead chips during removal from PCB, trimming component leads etc.