Click on the product thumbnail for an enlarged view.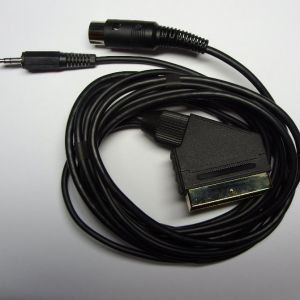 RGB Stereo SCART Cable For Spectrum 128 +2 (Grey model only)
Delivers a vastly superior RGB-mode TV picture than that obtained from the RF output.
Stereo sound jack - Ideal for when the 128+2 has been audio fixed (also works with the unmodded 128+2 but see the note below.)
Approx 2 Metres long
Very Important: Suitable for the grey coloured Spectrum 128+2 only.
Please note: The sound output from the 128+2's audio socket was not very well implemented by Amstrad. The beeper sound is much louder than the output from the AY chip (which is really quiet). There are various ways to fix this, probably the best being the stereo mod board available from Byte Delight