Mods for the ZX81
Products:
Click on the product thumbnail for an enlarged view.
Small Tube Of Thermally Conductive Adhesive
For attaching heatsinks to chips
5 gram tube - enough for about a dozen chips
Instructions supplied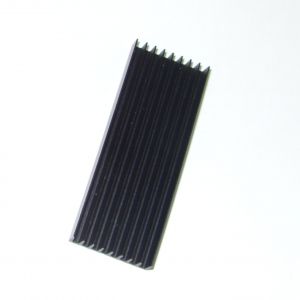 Heatsink for 40 Pin DIL Chips - Bare
Heatsink suitable for 40 PIN Chips such as the CPU in the Commodore 64 and ULA in ZX81 and Spectrum Plus.
Note: There is not enough room for a heatsink in the rubber-keyed Spectrum unless you desolder the ULA's IC socket and fit the ULA directly onto the motherboard. For the Spectrum+ there is room to fit the heatsink without soldering the ULA to the PCB if the keyboard backing plate is the thin grey metal type (the plastic backing plates are thicker and get in the way slightly).
Black anodized finish
Dimensions: 50mm x 19mm x 4.8mm
Attachment methods: The heatsink is not self-adhesive - it requires thermally conductive glue which I sell separately.