"ZipStik" Joysticks
Refurbished Zipstiks - fully working - all with standard DSUB9 connector suitable for C64, Spectrum (via interface), Atari, Amiga etc
Products:
Click on the product thumbnail for an enlarged view.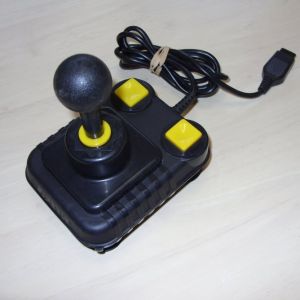 Refurbished Powerplay Zipstik Autofire Joystick - with suckers on base
This is the later cost-reduced "Powerplay" version of the Zipstik.
Thoroughly cleaned, internally and externally.
The four direction tactile switches have been replaced with brand new ones. All directions including the diagonals, both fire buttons and auto-fire are working perfectly.
Good physical condition with just a little wear and tear. The four suckers on the base are present.
Autofire Config: When the autofire switch is on, holding a fire button produces rapid fire.
Standard D-Sub9 connector so suitable for C64, Spectrum 16/48K (via interface), Amiga, Atari 2600 etc. (Note: Cannot be used in the Spectrum +2/+3's onboard joystick ports).