Various interfaces etc..
Click on the product thumbnail for an enlarged view.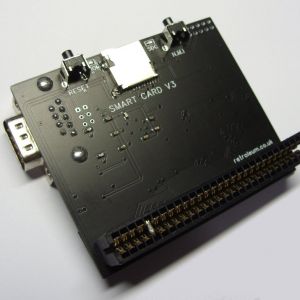 SMART Card V2 Spectrum Interface
The SMART Card is a SD-card game loader / kempston compatible joystick interface aimed at Spectrum 48K* users who want a simple, plug and play method of loading games quickly. Upon power up, you are presented with a list of games on your SD Card from which you can select using the joystick or keys. The .sna and .tap files found on spectrumcomputing.co.uk, www.worldofspectrum.org and other websites are supported.
The SMART Card also has extra features such as its diagnostic ROM which can be used to identify bad RAM chips etc. There's also reset / NMI buttons so snapshots of games can be saved, pokes entered etc.
*The V2 SMART Card fits - and works with - all UK Spectrum models with 48K or greater, but please note the software only supports 16K/48K games.
Availability: You may notice the stock level is rarely above zero. I make small batches almost every week but they usually all sell immediately. I cannot reserve them but if you want an email as soon as they're listed just drop me a line.