Easter Holiday Alert! Please note I'll be unable to dispatch any orders or reply to messages between April 19th-22nd inclusive, but you can still place an order if you wish. Cheers, Phil.
Misc cables for the VIC 20
Products:
Click on the product thumbnail for an enlarged view.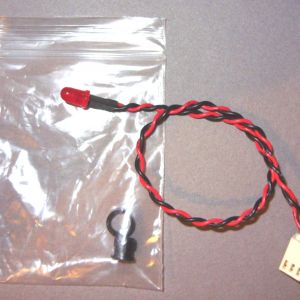 Original RED Power LED cable for breadbin C64
Original red Commodore 64 power LED with cable, plug and original grommet
Also used in VIC 20
Includes the original black fitting grommet
Not suitable for the later white C64C since that uses a rectangular LED
Note: Cable is approx 25CM long - some versions of the C64 (GS, Aldi) require a longer cable - please check.
I also have new LED cables with red, green or blue LEDs - please see the C64 mods section.