Replacement capacitors for the VIC 20
Long-life, quality brand (Nichicon, Vishay etc) capacitor sets.
Products:
Click on the product thumbnail for an enlarged view.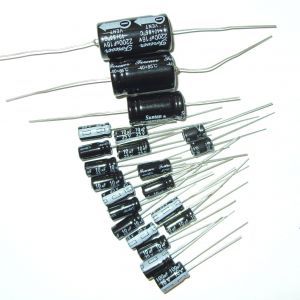 VIC20 Capacitor Pack #1
A set of electrolytic capacitors suitable for re-capping a VIC20 with assembly number: 250403 or 251040
Contains:
1 x 1uf 50v radial (250403: C11*), (251040: C11)
3 x 10uf 16v radial (250403: C15,C17,C62) (251040: C16,C42)
1 x 47uf 16v radial (250403: N/A) (251040: C4)
1 x 100uf 16v radial (250403: C33) (251040: C40)
1 x 2200uf 16v axial (250403: C39) (251040: C39)
* C11 is a 16v-rated type in 250403 boards. The 50v rating of the capacitor supplied in this set makes no difference since the capacitors are operating well below these voltages.