Easter Holiday Alert! Please note I'll be unable to dispatch any orders or reply to messages between April 19th-22nd inclusive, but you can still place an order if you wish. Cheers, Phil.
Replacement capacitors for the VIC 20
Long-life, quality brand (Nichicon, Vishay etc) capacitor sets.
Products:
Click on the product thumbnail for an enlarged view.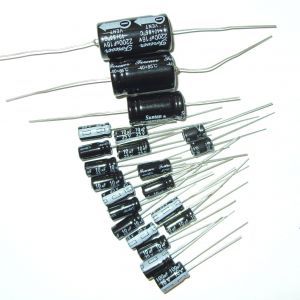 VIC20 Capacitor Pack #1
A set of electrolytic capacitors suitable for re-capping a VIC20 with assembly number: 250403 or 251040
Contains:
1 x 1uf radial
3 x 10uf radial (only two required for the 250403)
1 x 47uf radial (only required for the 251040)
1 x 100uf radial
1 x 2200uf axial